"Hey, are you an Eagles fan?"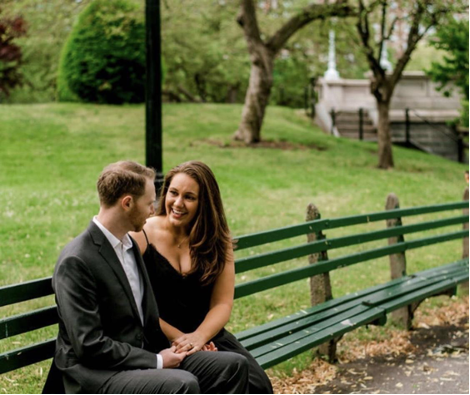 For years, Katie followed the same weekday routine as she walked from Downtown Crossing to her office in Beacon Hill. Same streets, same coffee, same time. But every once in a while she took a detour, stopping under the distinctive blue awning on Washington Street to fawn over the engagement rings in the EB Horn window. Just a few minutes to daydream, particularly thinking of sliding one of those Verragio rings on her finger.
A few years later, following a path weaving through football and dogs, coffee and hot chocolate, and dream became reality.
So how did we get there? It started with a simple question, "Hey, are you an Eagles fan?" Katie had no hesitation about swiping right to this match, even in Patriots territory.
The two strangers met at the corner of Charles and Beacon street for their first date. Chatting away, time flew by. From getting lattes at the Thinking Cup, to walking around the common, to sitting on a bench until dusk. It was the recipe for an almost perfect first date. And five dates later, Tom finally kissed her.
Five years later, and they were still connecting over the little things. Including their dogs and their new home in the suburbs. But not lattes. Tom was so nervous for their first date he ordered a hazelnut latte, only to realize later he likes coffee, but not lattes.   And soon, there became much anticipation around when Tom would get on one knee to take that final big step. Everyone, including his further father-in-law's co-worker, was convinced they would be engaged after the Christmas holiday.
The couple wasn't in a rush, and knew that day would come. As part of this next step, they decided to pick out the ring together, which led Katie back to those crosstown walks and those Verragio engagement rings. It was met to be, the small details she envisioned in her head are coming together.
A month after visiting E. B. Horn, excitement began to set in on a lazy Sunday night. When scrolling through Instagram, Katie found herself looking at her customized engagement ring featured on Verragio's page.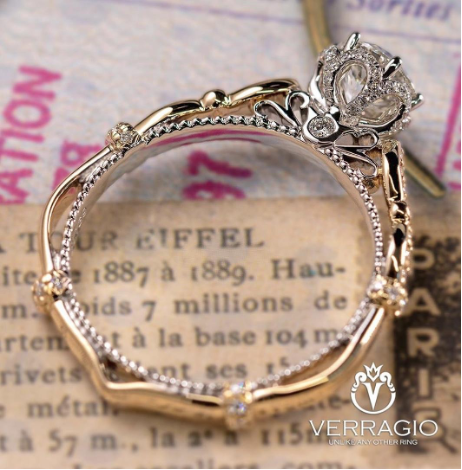 Everything came together on the last real winter day in Boston. It was not the best weather for Katie to be training outside at a soccer tournament. After the long, cold day working, Katie came home with a parka spanning down to her ankles, an XL Marylou's hot chocolate in hand and a wind-burned face. Warming up was the only thing on her mind. But, the dogs didn't greet her at the door?
Puzzled, she noticed a letter waiting for her on the counter. It was a handwritten note from Tom, reminding her how much he loved her. Instead of signing the note, he had her follow the post-it notes that lead up the stairs. Katie followed suit. Still bundled up, she found Tom in their bedroom waiting for her on one knee. She said yes – and celebrated with champagne and the king-sized KitKat bar Katie bought at Marylou's. The day was filled with love and thoughtful little things – just like Katie and Tom.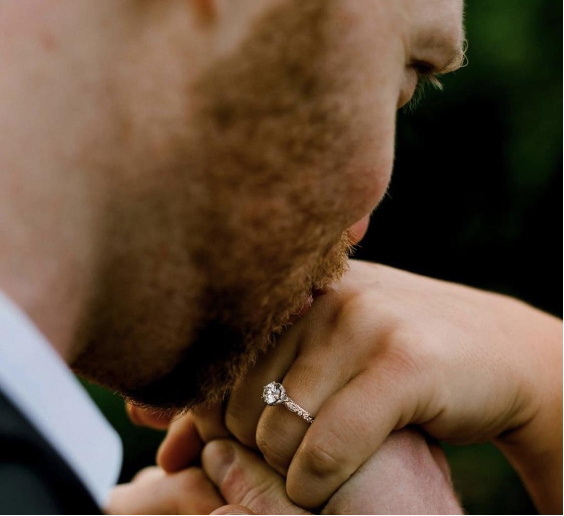 About E.B. Horn
No matter the piece or purpose, we want to make your jewelry shopping experience the best it can be. That's the attitude that we've had for over 184 years and we're happy to see it's worked all this time. Visit our site to learn more.
Stay in touch
Want to receive occasional offers and updates from E.B. Horn via email?