Our Small Business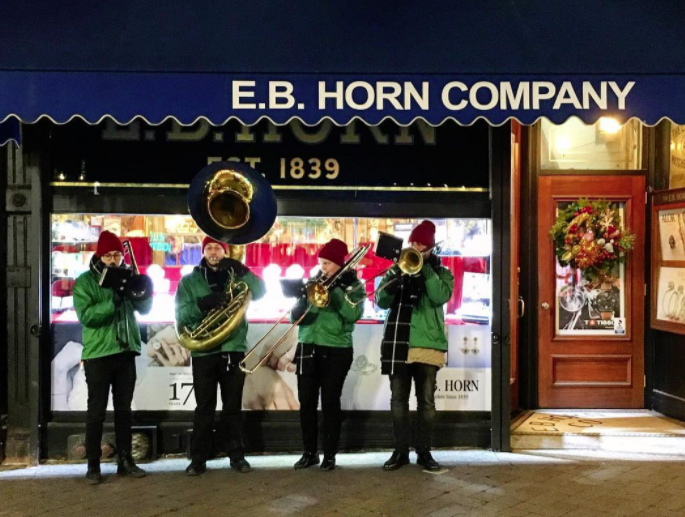 In 1839, a local watchmaker opened a small shop on Hanover Street with a single mission: "to make every transaction with a customer an event." Edwin Booth Horn reasoned that watches and jewelry weren't just products or gifts, but signature pieces synonymous with unforgettable moments and priceless memories. And the facilitator of those had an important role to play in the experience.
Most of you may know E.B. Horn as the oldest family jeweler in Boston (we happen to be the sixth-oldest, of any kind, in the country). But there's a lot more to us than just having been open for a long time. As we head into the holiday season (including Small Business Saturday this weekend) and you want to know a little bit more about the brands you're considering, here's a little more of the E.B. Horn flavor.
Our People
The Pittsburgh Steelers love to boast that they've only had three coaches over the last half-century. We've only been owned by two families over more than three half-centuries. The Finns purchased the company from the Horns 75 years ago, which seems like more than middle age at this point. 
Most of our employees have been here for decades, including the current owners who have been working in the store for nearly 50 years. And quality, service and values remain central to our experience.
Our Place
We moved from Hanover Street to our home on Washington Street in 1878, when horses and buggies ruled the streets. Our corner Greek Revival Building is one of the few surviving structures from the Great Boston Fire of 1872.
While it remains an eclectic mix of old and new, our neighbors sure have changed. Department stores like Filene's, Jordan Marsh and Gilchrist's have been replaced by Macy's. Primark and Millennium Tower. 
Our Appearance
When you step into the store, it's like stepping back into time. Like our iconic blue awning, the classic window display, and wooden inventory casings. The team jokes that what has changed the most is the lighting. 
As the co-owner told The Industry Authority: "We like the fact that customers can come in here after 30 years and say nothing has changed." 
Our Centerpiece
Nothing represents our history quite like the 6-foot, black maplewood clock. Dating to early days of the store, the rare, 19th-century astronomical regulator was created by Edwin himself. These were upgraded versions of standard timepieces, valued because of their accuracy and scarcity, and setting the standard for time in those days, helping governments and big businesses keep accurate time. 
Unlike other astronomical regulators that were for governments and big business, ours was available to anyone, allowing for pocket watches to be accurately set at any time.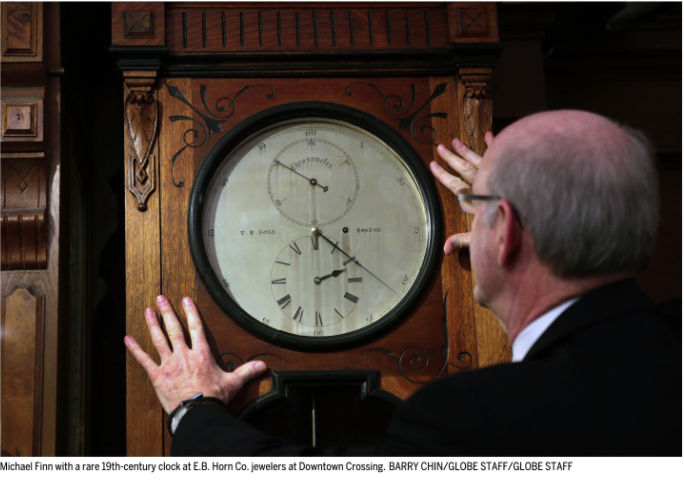 Refinished for its 175th birthday, the clock was featured by The Boston Globe.
About E.B. Horn
No matter the piece or purpose, we want to make your jewelry shopping experience the best it can be. That's the attitude that we've had for over 183 years and we're happy to see it's worked all this time. Visit our site to learn more.
Stay in touch
Want to receive occasional offers and updates from E.B. Horn via email?