A Taste of History, Easter Brunch in Boston
At EB Horn, we're all about tradition. And one of our favorite Easter Sunday traditions is brunch. With thousands of options to choose from, picking a place to eat can be rather stressful. That's why we're here to encourage you to take the historic route! Below, check out three historic brunch spots paired with one of our favorite estate pieces to wear to each.
2 Pleasant St, Charlestown, MA 02129
Established 1780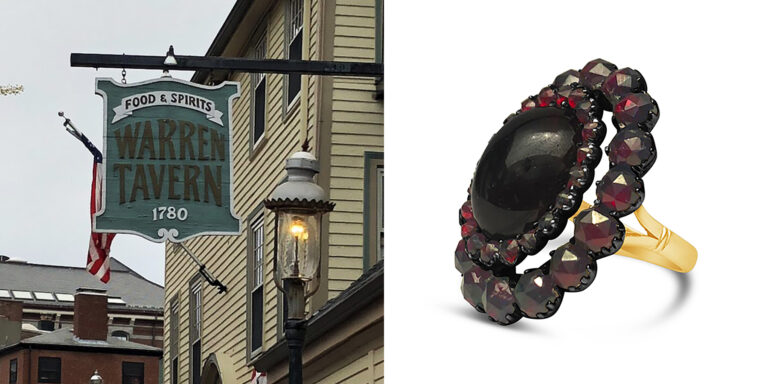 As one of the oldest taverns in Massachusetts, it's no wonder people such as George Washington, Benjamin Franklin, and Paul Revere all frequented The Warren Tavern. Located a few streets over from the Bunker Hill Monument, this historic restaurant was named for Doctor Joseph Warren, a Major General who lost his life during the Battle of Bunker Hill.
This exquisite 18kt yellow gold, garnet ring reflects the type of jewelry popular among Europeans back when the tavern first opened its doors!
Brunch staples include: Breakfast Tater Tots, Avocado & Egg BLT & Steak & Eggs.
60 School St, Boston, MA 02108
Established 1855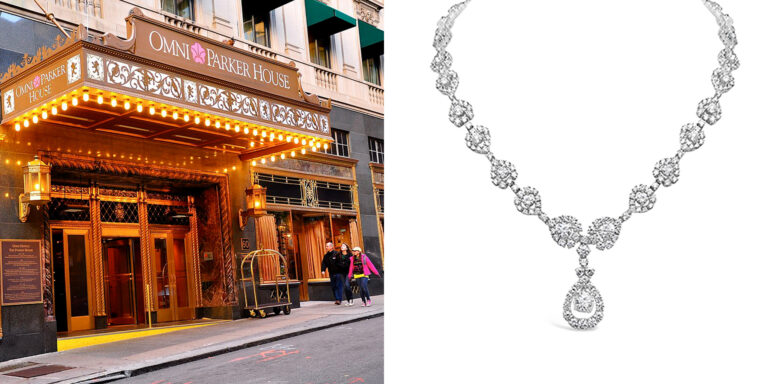 Parker's Restaurant is located inside Boston's iconic Omni Parker House. The Hotel is notable for a few reasons: it's the birthplace of Boston cream pie and allegedly the place where JFK proposed to Jackie at Table 40. Much like it was back in the day, Parker's is an upscale establishment that offers a fine selection of surf 'n' turf plates.
If you're heading to Parker's Restaurant this Easter, you're feeling fancy and sporting your Sunday best. That's why we recommend an antique, statement necklace to compliment your look.
Brunch highlights include: Seacoast Benedict, Blueberry Buttermilk Pancakes and Smoked Salmon atop a bagel with cream cheese.
80 W Broadway, Boston, MA 02127
Established 1890
As the oldest restaurant & bar in Southie, it should come as no surprise that Amrheins is home to the oldest hand carved bar in America and the first draft beer pump in the city. But don't let its age fool you. Amrheins' menu features dishes influenced from around the world, while using locally sourced ingredients and bold New England flavors.
Sticking with the historic but "hip" theme, this lovely 14kt rose gold vintage bracelet would fit right in at Amrheins!
Brunch offerings include: Cast Iron Corned Beef Hash, Chicken and Waffles as well as Eggs Benedict.
About E.B. Horn
No matter the piece or purpose, we want to make your jewelry shopping experience the best it can be. That's the attitude that we've had for over 181 years and we're happy to see it's worked all this time. Visit our site to learn more.
Stay in touch
You May Also Like
Want to receive occasional offers and updates from E.B. Horn via email?